Anne Lister's Story
Anne Lister
     Born in 1791 in Halifax, Anne Lister twice briefly attended boarding schools before moving, in 1815, to live with her aunt and uncle at Shibden Hall, a West Yorkshire manor house dating from about 1420. She set herself an ambitious program of reading and learning and soon began to manage and to renovate the estate, inheriting her uncle's share in 1826 and finally becoming its sole owner on the death of her beloved Aunt Anne in 1836. Anne Lister's earliest diary entry was written on 11 August 1806, when she was 15. Prompted by the departure of her first love, it begins, "Eliza left us." From then until 1816, only loose diary sheets are preserved. Some appear to be rough drafts for inscription in a volume. Given that two smaller, bound notebooks from 1816-17 do survive, Anne Lister was surely writing journals (now lost) in the period up to 1817.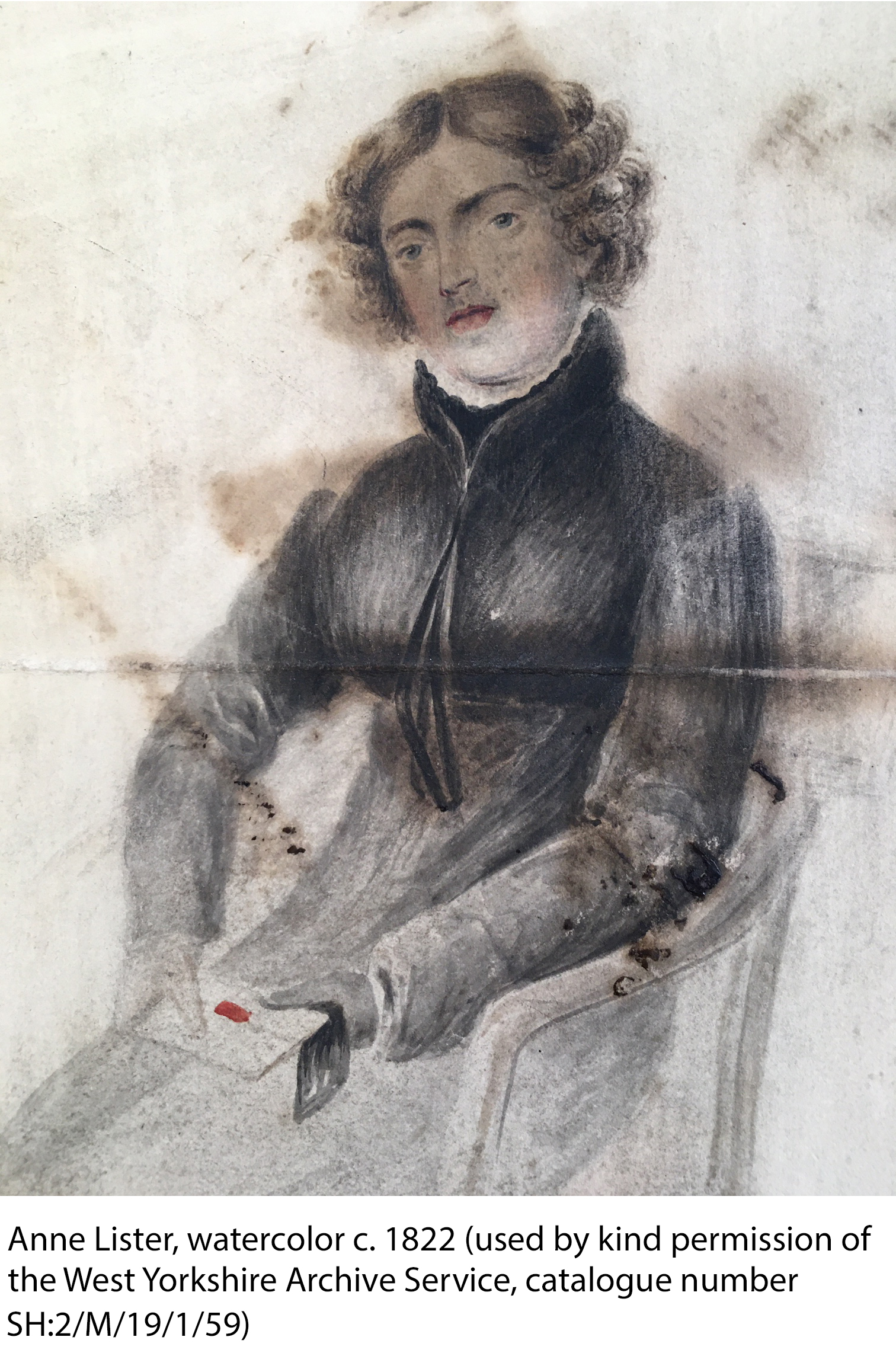 On 21 March 1817, Anne Lister raised the stakes of her writing, quoting historian Edward Gibbon on her flyleaf to propose "from this day to keep an exact journal of my actions and studies." With that, she commenced her use of the larger format, bound volumes that she would maintain, increasing the length and detail of her entries, until her death in 1840. Miraculously, all 24 of these continuous volumes survive. Her observations include extended personal interactions with her tenants and local artisans; engineering calculations, legal issues, and coal pit development at Shibden Hall; gentry responses to industrialization and the political unrest it triggered; assessments of contemporary advances in geology, landscape design, and anatomy; theological reflection; medical opinions and analysis of her own health; forensic descriptions of cities, landscapes, and cultures across her many travels and years abroad; a meticulous record of the morning and evening temperatures; and practical accounts of summiting two of the highest peaks in the Pyrenees (she was the first woman recorded to scale Mont Perdu, and she made the first recorded ascent of the Vignemale). She also left fourteen volumes of travel notes, covering trips to Scotland, Ireland, Wales, and the Lake District, and to Paris, the Pyrenees, Holland, Denmark, St. Petersburg, Moscow, and beyond.
     Most consequentially for the study of women and the history of sexuality, Lister has not only given us possibly the most acute extant account of the intimate choreographies of social calls and household life of any era. She also tells a story that – without her direct testimony – might otherwise have seemed historically impossible, writing plainly, "I love & only love the fairer sex & thus beloved by them in turn my heart revolts from any other love than theirs" (29 January 1821). Indeed, she records extensive romantic and sexual engagements with a network of women. These range from what she termed "scrapes" with women to a series of sustained love affairs (most notably with Mariana Belcombe, the love of her life) and durable friendships (along with all the vagaries of pain, longing, and reconciliation that attend them) and finally her long courtship of neighboring heiress Ann Walker, which led in 1834 to what has been called the first same-sex marriage in England. Her singular narrative was cut short too soon. Anne Lister's diary records a nasty insect bite in early August 1840, and her last entry was written within a few days. She died of a prolonged fever six weeks later, aged 49, at the edge of the Russian empire (in what is now Kutaisi, Georgia) – the furthest her extensive travels had ever taken her from Shibden Hall. The obituary in the Halifax paper cited her "mental energy and courage." Her body was returned to Yorkshire and interred at Halifax Parish Church (now the Minster) in 1841.
The survival of Anne Lister's journals
     Not one, but a series of miraculous twists preserved the continuous run of Anne Lister's diaries and other writings. Many of these volumes traveled with her during extensive periods away from home. In addition to her own meticulous care over so many years, her spouse Ann Walker brought the last two volumes on the arduous journey back to Shibden Hall after Anne's death in far-flung Georgia. The complete set remained at Shibden Hall for decades, until John Lister (the last Lister to own the estate and a founder of the Halifax Antiquarian Society) began to publish passages of historical interest in the Halifax Guardian. One night in the mid-1890s, he and his friend Arthur Burrell set out to decipher the crypthand. When they succeeded and began to grasp its unprecedented sexual content, Burrell urged John Lister to burn the diaries. In the contexts of the expanded Criminal Law Amendment Act of 1885 (which would entangle Oscar Wilde in 1895), John Lister's choice instead to save the queer diaries of his predecessor was an act of quiet heroism. He left the diaries to the future by securing them behind one of the oak panels with which Anne herself had enclosed Shibden's timbered walls.
     The estate was ultimately conveyed to Halifax Borough on John Lister's death in 1933, and its extensive papers dating back to the 1420s were inventoried and archived over time. Burrell himself turned over the key to the code to Edward Green, Halifax Borough Librarian, before he died. A tiny few were aware of the content of the coded sections, and strict control over access to and permission to publish from them was maintained in the era of an intensifying repression of homosexuality. Muriel Green (the Halifax librarian's daughter) worked for years at Shibden Hall organizing materials and did a thesis in 1938, editing a major selection of Anne Lister's letters. An abridged version was later published as Miss Lister of Shibden Hall: Selected Letters (1800-1840), now out of print. From the 1940s to the 1960s, the intriguing duo of Vivien Ingham (of London) and Phyllis Ramsden (of Halifax) undertook a far-reaching effort to engage Anne Lister's archive. More research is needed on Ingham's contribution to ordering and preserving material in the days when the papers still remained at Shibden Hall, on the unpublished research now held at the archive, and on the lost transcript they made of coded diary material (of which only their short synopses remain).
Anne Lister's contemporary re-emergence
     In 1983, Helena Whitbread, a Halifax historian, went to the archive to look at Anne Lister's letters. The archivist happened to mention the existence of the diaries. Even more fatefully (now well after the decriminalization of same-sex acts in England and Wales in 1967), he also handed her the code. Whitbread then spent 5 years, painstakingly deciphering and decoding diary material that had been kept almost entirely under wraps – but miraculously intact – for 150 years. Whitbread's two extraordinary books of edited material, I Know My Own Heart (1988) and No Priest But Love (1993) (recently republished as The Secret Diaries of Miss Anne Lister, in two volumes), focus on earlier sections of the diaries and highlight the story of Lister's self-formation as "a lover of women." These two heroic and unexpected books astounded scholars of history, gender, and sexuality, and Whitbread literally re-mapped our historical understanding of the possible. Jill Liddington, a scholar publishing widely in feminist historical studies, then focused on the later period, analyzing Lister in full career as the inheritor of the Shibden Hall estate. Liddington published two compelling accounts, carefully situating Anne Lister within the social and economic contexts of her time to assess one woman's successful negotiation of conventions about gender and power (Female Fortune: Land, Gender, and Authority [1998] and Nature's Domain: Anne Lister and the Landscape of Desire [2003]), as well as a master-class in historiography that analyzes the succession of reader/editors and their approaches to Anne Lister (Presenting the Past: Anne Lister of Halifax 1791-1840 [1994]). Anne Lister's story entered the terrain of popular media, with James Kent directing Maxine Peake in the film The Secret Diaries of Miss Anne Lister in 2010. Then, in 2011, UNESCO named her journals a pivotal document in British history, adding them to its Memory of the World register as "a comprehensive and painfully honest account of lesbian life and reflections on her nature."
Gentleman Jack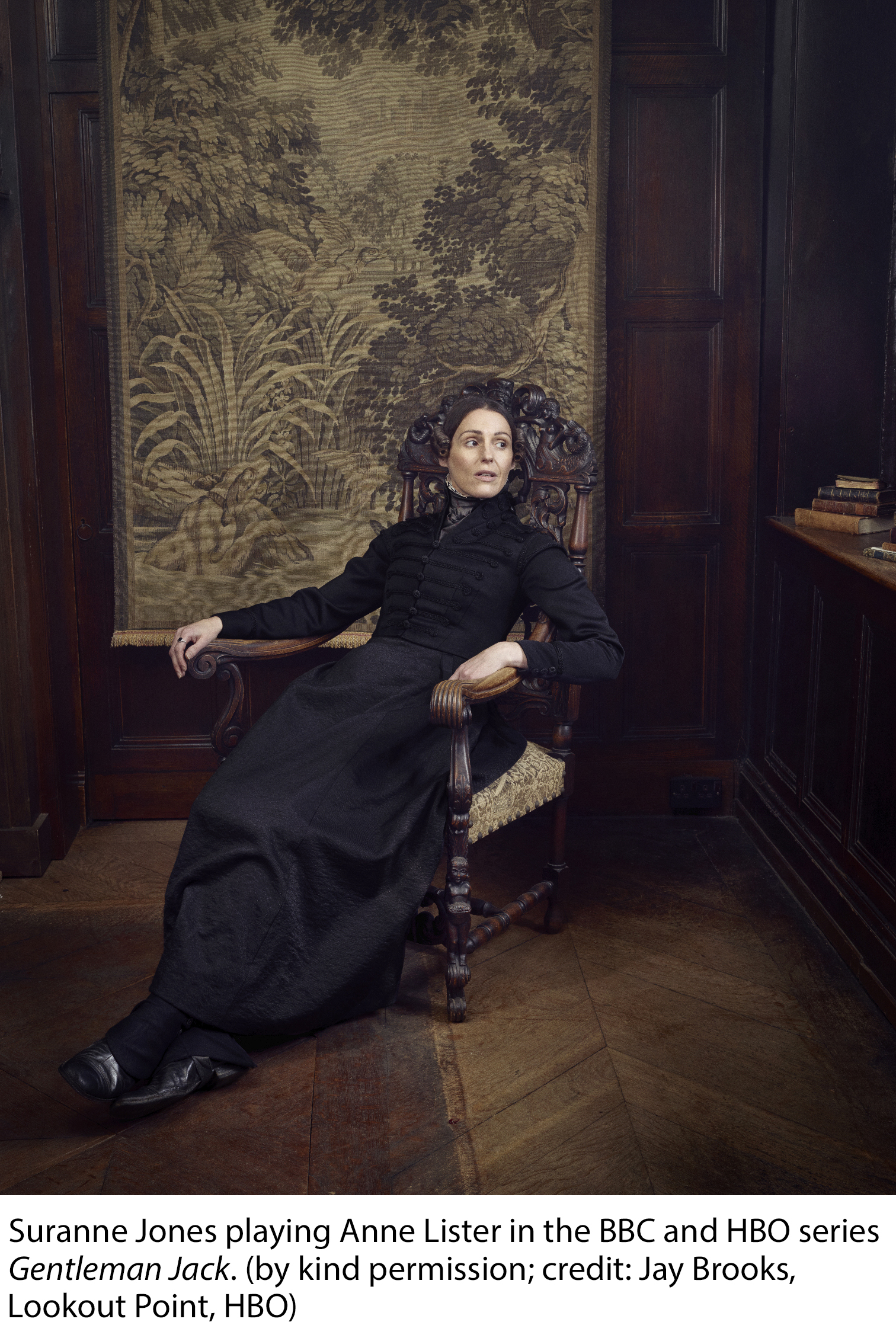 In 2019, the award-winning writer and director Sally Wainwright launched Gentleman Jack, an epic, eight-episode BBC/HBO/Lookout Point series dramatizing that life. Making history with history, the rich and remarkable script for the series draws extensively on Anne Lister's own, handwritten words. Wainwright's crackling writing and direction and a tour-de-force performance by Suranne Jones as Anne Lister have (so far) earned the series a number of awards and nominations, including the British Film Designers Guild Award for Best Production Design (2019), the Royal Television Society Award for Best Drama (2020), and BAFTA nominations for Wainwright (Drama Series) and for Jones (Leading Actress) in 2020. A Penguin companion volume (Gentleman Jack: The Real Anne Lister) by the program's senior historical consultant, Anne Choma, has richly amplified the story with previously unpublished diary material for an eager readership. The series also directed renewed and much-deserved attention to the pioneering work of Whitbread and Liddington, who both served as consultants for the show. Fans around the globe have been electrified by Gentleman Jack's decisive intervention in the history of on-screen representation for female protagonists and LGBTQ+ figures alike. "Listersisters" (and -misters) around the world have been inspired to "write their own stories," inspired by Anne Lister's emphatic faith in her own personal authority to choose how to live. With fans now composing their own plays and blogs, pursuing their own research, posting countless social media mashups and threads, writing fan fiction, producing their own art and videos, organizing benefit walks, and even climbing mountains, Wainwright's series has changed lives. Series 2 of Gentleman Jack begins filming later this year.
     Also in 2019 and of special importance for reader access and scholarly investigation alike, the West Yorkshire Archive Service has undertaken a massive diary transcription project, using digitized images of the diaries that were made possible by Wainwright. The project now involves 150 volunteers from around the world. Every single page of Anne Lister's journal is being transcribed by two different volunteers according to shared conventions, and the transcription proceeds apace. This initiative of the West Yorkshire Archive Service was awarded the U.K. Archives & Records Association Archive Volunteer Award in June 2020, for its exemplary engagement of Lister's fans and readers in the life of the archive.
     After a nominating process in which the Anne Lister Society proudly participated, the University of York announced that it had chosen to name its new college Anne Lister College. The College opened in fall term 2021 and was celebrated by a panel discussion featuring Sally Wainwright OBE, Prof Laurie Shannon, and Keeper of Archives at the University of York, Gary Brennan, and chaired by BBC presenter, Emma Barnett. As a lifelong student for whom a university education was foreclosed by sex, Anne Lister's relentless pursuit of knowledge and her passionate dedication to writing make her an exemplary namesake for York's tenth college.
     The mission of the Anne Lister Society is to support research that establishes and sustains Anne Lister's due place – both within the cultural tradition and as an ongoing force of nature.
– Laurie Shannon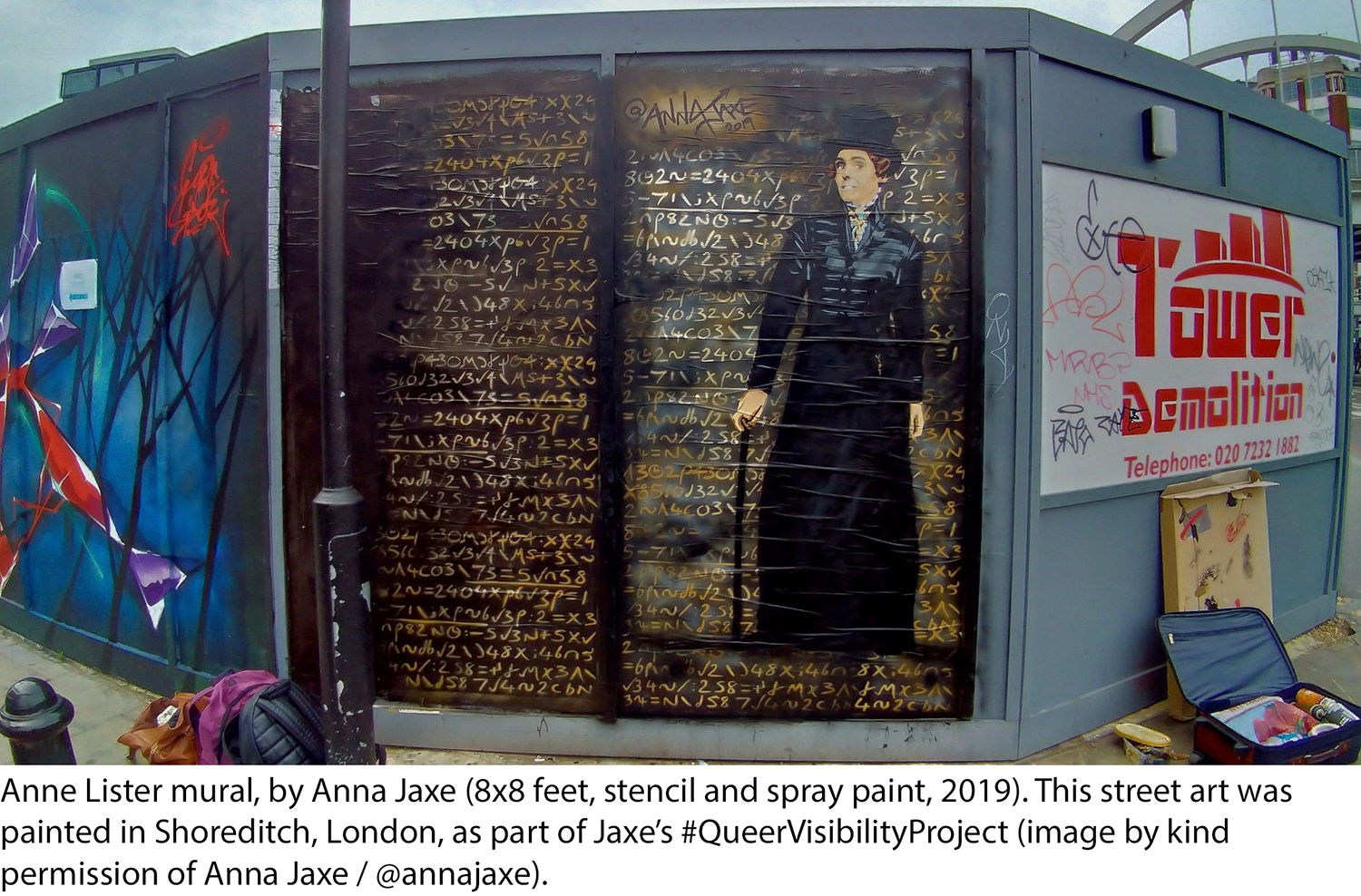 Back to top