Careers for English Majors
Why 'worthless' humanites degrees may set you up for life -- BBC, April 2, 2019
Why liberal arts and the humanities are as important as engineering -- Washington Post, June 12, 2018
Liberal Arts in the Data Age -- Harvard Business Review, July-August 2017
The surprising thing Google learned about its employees -- The Washington Post, December 20, 2017
Six Myths About Choosing a College Major -- The New York Times, November 3, 2017
Training Good Doctors Starts with the Liberal Arts -- New Republic, August 15, 2016
How Humanities Degrees Cultivate Marketable Business Skills -- Entrepeneur.com, July 11, 2016
That 'Useless' Liberal Arts Degree Has Become Tech's Hottest Ticket -- Forbes Magazine, August 17, 2015
See below for more articles on career prospects for English majors!
Class of 2017 English Majors, Employment by Industry
Data provided by Northwestern Career Advancement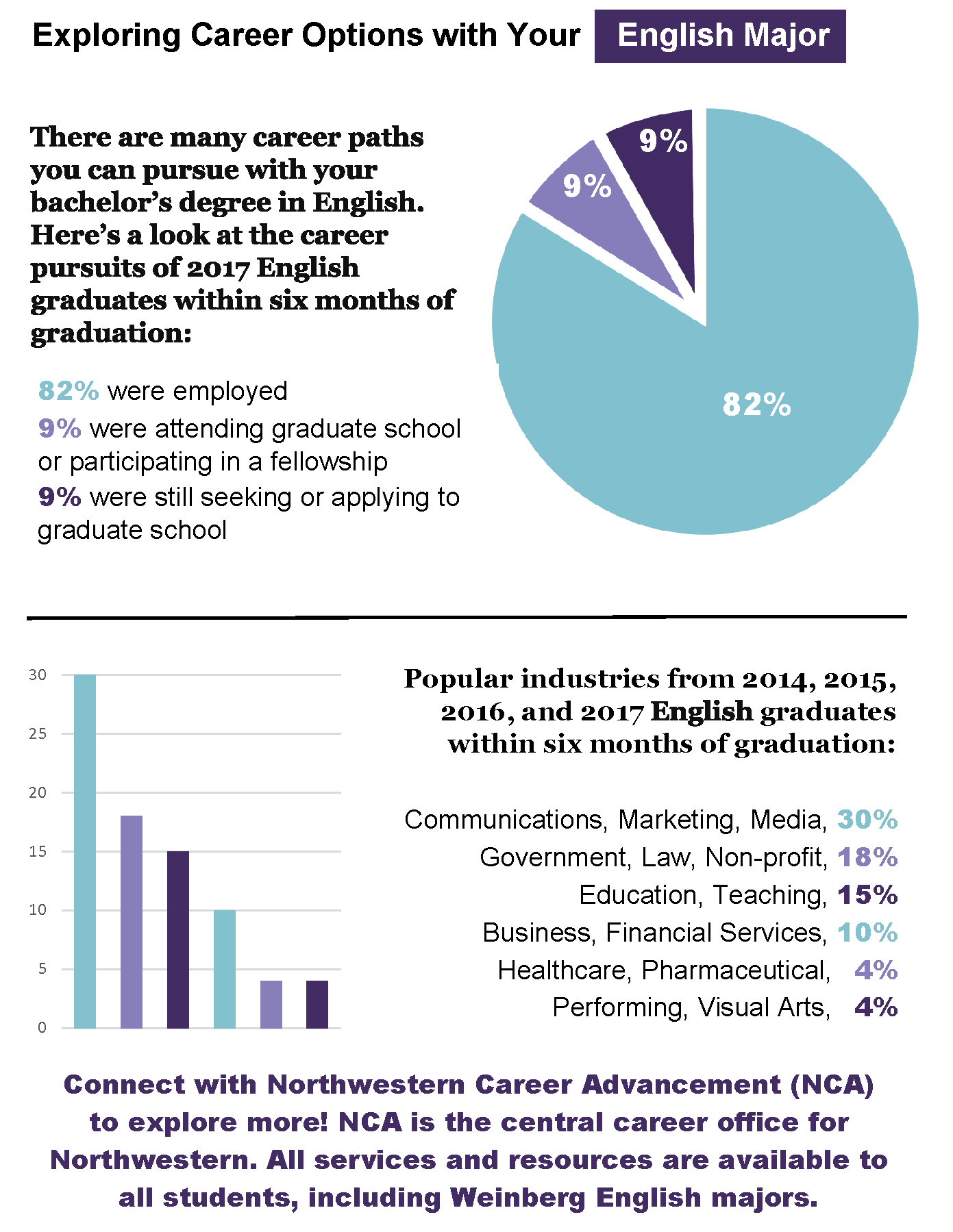 Classes of 2014, 2015, 2016 English Majors, Employment by Industry
Data provided by Northwestern Career Advancement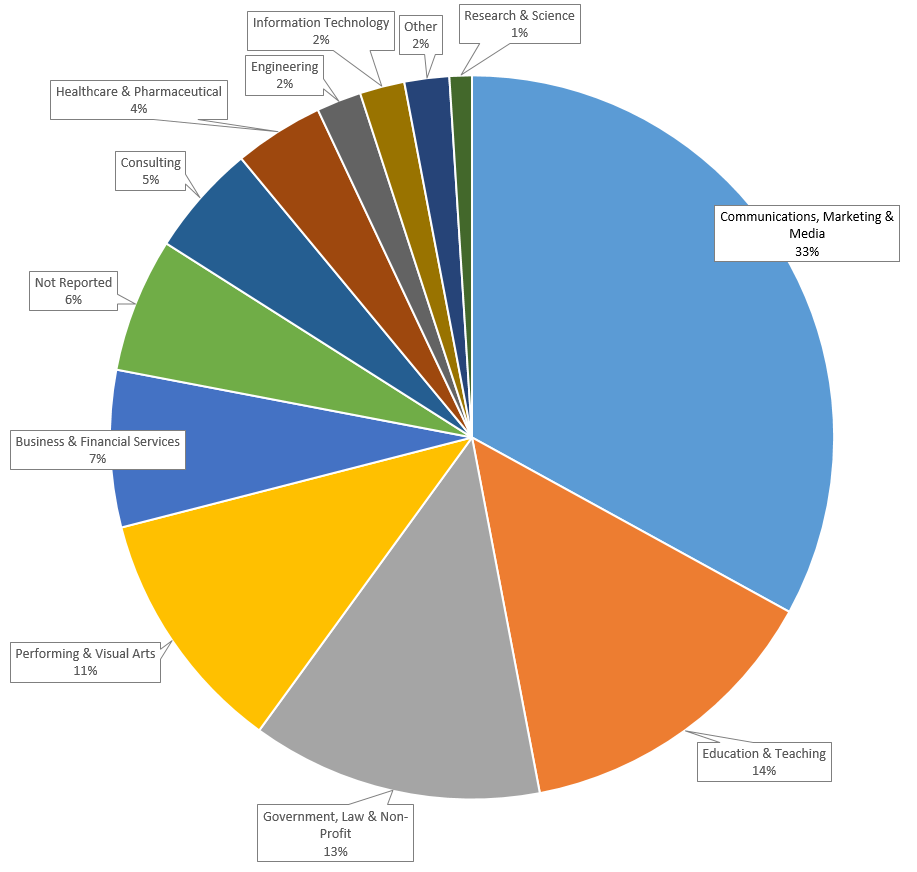 ---
Classes of 2005 & 2010 Employment by Industry

Data gathered from LinkedIn by Northwestern Career Advancement

Class of 2010 English Majors, Employment by Industry

 

Class of 2005 English Majors, Employment by Industry

Classes of 2005 and 2010, List of Employers

Data gathered from LinkedIn by Northwestern Career Advancement. Some employers fall within more than one industry classification.

Communication, Marketing, Media

Google
NBCUniversal, Inc.
Optimized Marketing
ESPN
Houghton Mifflin Harcourt
Wrigley
COTY Inc.
Intouch Solutions
Meredith Corporation
West Corporation
SourceMedia
Virtua Health
Christianity Today
Trib Total Media
Bloomberg LP
Razorfish
Aspect Software
Weber Shandwick
The Onion
HIMSS
Imagination Publishing
Scranton Gillette Communications, Inc.
Schafer Condon Carter (SCC)

Education & Teaching

Chicago Public Schools
Harvard University
NYC Department of Education
Michigan State University
Marquette University
Boise State University
Cuyahoga Community College
City Colleges of Chicago
Menlo College
Gannon University
Stevenson School
Huntington Learning Center
Simon Fraser University
Evanston Township High School

Business Services, Financial Services, Investment Banking

ExxonMobil
Wrigley
Uber
L.L.Bean
Kempinski Hotels
English (Alumni) 8
Philips
Cargill
8th Light
Puppet Labs, Inc.
Strategic Account Management Association
PeopleFoundry
HERE, a Nokia company
Rappaport Reiches Capital Management
Macy's
State Farm
Kellogg School of Management
Stryker
Discover Financial Services
U.S. Cellular
Advocate Health Care
Rent-A-Center

Visual & Performing Arts

POPSUGAR
Foodbuzz
ODC/DanceIn
Independent entertainment professional
RoCo Dance and Fitness
Freelance Creative Director/Brand Architect
Freelance Animation Artist
Theatre Communications Group
Goodman Theatre
Designworks: A BMW Group Company
International Academy of Design and Technology
Co.lective at Lective.co
Game It Forward

Consulting

Deloitte
Astek Consulting
Decurion Corporation

Nonprofit & Government

UNICEF
Smithsonian Institution
Alzheimer's Association
American Hospital Association
United Way
United Nations Foundation
Kaiser Family Foundation
National Board of Medical Examiners
Trace Foundation
Rising Sun Energy Center
LegalShield Official
Operation Lifesaver Inc
Rotary International

More Recent Articles on Career Prospects for English Majors

Healthcare and the Humanities

In a recent panel discussion, Weinberg alumni in the healthcare field discussed the unique professional advantages their liberal arts educations have afforded them.  Paul Checchia, 1989 English graduate from Weinberg and medical director of the Cardiovascular Intensive Care Texas Children's Hospital in Houston, argued, "the problems in medicine now are so huge that we need broad-based thinkers to attack problems with different approaches. And that's where the liberal arts education comes in and proves to be of immense value."

Christine Todd, a participant in the Weinberg panel, wrote a follow-up piece on the blog MedHumDoc extolling the virtues of a liberal arts education in a medical career. "Medical knowledge without true connection with a patient or a community is worthless.  You can't just take science and paste it onto people because it's for their own good.  I mean – you can, but it won't work.  Knowing the diagnosis means nothing at all if you can't partner with your patient to find a treatment that fits them."

The growth of medical humanities programs offers further recognition of the importance of a broad-based humanities education for medical practitioners. Mt. Sinai School of Medicine has introduced a program called HuMed, guarantees medical school admission to undergraduate students majoring in the humanities. Dr. David Muller, dean for medical education at Mt. Sinai, explained that the program's founder, Dr. Nathan Kase, "really had a firm belief that you couldn't be a good doctor and a well-rounded doctor — relate to patients and communicate with them — unless you really had a good grounding in the liberal arts."
---
Northwestern's Career Advancement office offers career-related advising throughout the academic year, from conversations about possible career pathways to advice on specific questions about careers and interviews.  Contact Laura Droste, the English Department's liaison at the NCA.
See NCA's page on English career paths here.
NCA also maintains a database of internships and job postings.