Harris Feinsod
Associate Professor of English and Comparative Literary Studies
Ph.D., Stanford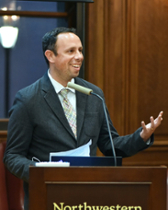 847-467-1762
University Hall 319
Office Hours: On Leave 2023-24
Biography
Harris Feinsod is a literary and cultural historian of the United States, Latin America, and the Atlantic world. His teaching and research emphasize poetry and poetics, modernism and the avant-garde in Europe and the Americas, multiethnic US literature, and transnational studies (especially hemispheric and oceanic approaches). At Northwestern since 2011, he earned a Ph.D. from Stanford (2011) and an A.B. from Brown (2004), both in Comparative Literature.
His first book, The Poetry of the Americas: From Good Neighbors to Countercultures (Oxford, hardcover 2017/paperback 2019), offers a detailed literary history of relations among poets in the US and Latin America across the mid-twentieth century. Fellowships at the Stanford Humanities Center, the Harry Ransom Center, and the University of Pittsburgh Humanities Center supported the research and writing of this book.
Feinsod is now at work on "Into Steam: The Worlds of Maritime Modernism." A global account of transoceanic and dockside poetry, narrative fiction, visual art, and radical history in the early twentieth century, "Into Steam" charts modernist culture as viewed from its industrializing seaways. Essays related to this project appear in American Literary History, English Language Notes, and Modernism / modernity, and it has been supported by a fellowship at the National Humanities Center (2019-2020).
Feinsod's timely essays appear in popular and scholarly venues such as The Baffler, In These Times, Los Angeles Review of Books, n+1 and Post45. He also collaborates on several large-scale translation and editorial projects. He is the co-translator (with Rachel Galvin), of Oliverio Girondo's Decals: Complete Early Poems (Open Letter, 2018), which was shortlisted for the National Translation Award in Poetry. He co-directs Open Door Archive, a digital platform featuring reissues of neglected print cultures of the Americas. Previously, he served as assistant editor for The Princeton Encyclopedia of Poetry and Poetics: Fourth Edition (2012). With Leah Feldman and Peter Kalliney, he is currently co-editing a global anthology of anticolonial thought. He serves on the editorial board of Northwestern University Press (2019–23) and is elected to the Executive Committee of the Modern Language Association's Forum on Poetry and Poetics (2019–24).
At Northwestern, Feinsod has core appointments in the Department of English and the Program in Comparative Literary Studies (where he served as Director of Graduate Studies from 2018–22), and he is an affiliate of the Department of Spanish and Portuguese and the Program in Latin American and Caribbean Studies. Highly committed to graduate education, he has served on more than 25 dissertation committees across many departments and programs, and he is active in the graduate clusters in Environment, Culture & Society, Global Avant-Garde and Modernist Studies, and Poetry & Poetics. He also co-organizes the Workshop in Transnational Cultural History (WITCH) with Kalyan Nadiminti (on hiatus for 2023-24).
---
Specializations
Modern, Poetry & Poetics, Literary Theory, American: 20th Century, Postcolonial, Critical Race & Ethnicity Studies, Latina & Latino Literature
Books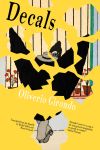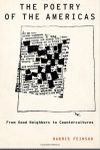 ---
Articles and Essays
---
Reviews
---
Occasional Essays & Interviews
---
Reference