Kalyan Nadiminti
Assistant Professor of English
Ph.D. University of Pennsylvania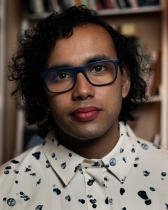 847-467-1149
University Hall 407
Office Hours: Tuesday 12:30-2:30pm
Biography
Kalyan Nadiminti (Ph.D. English, University of Pennsylvania) writes and teaches on postcolonial and Global Anglophone literatures, with a particular focus on twentieth and twenty-first century South Asian writing in English. They are especially interested in South Asia's engagement with U.S. empire and the Global War on Terror, comparative paradigms of detention and human rights, as well as global literary markets and the contemporary creative economy.
Kalyan is currently working on a book project, "Provincializing 9/11," which contends that Global South writers construct literary genealogies of terror to interrogate the mythic status of 9/11 as a foundational event in global histories of political violence. In genres ranging from novels and poetry to memoirs, paintings, and graphic novels, the project places South Asian Anglophone literature in dialogue with diasporic and detainee art and writing in the wake of U.S. empire. 
Their scholarly essays and reviews are forthcoming or have previously appeared in Post45/Contemporaries, NOVEL: A Forum on Fiction, Journal of Asian American Studies, South Asian Review, and LARB, among other venues. Their article, "The Global Program Era: Contemporary International Fiction in the American Creative Economy," is the kernel for a second project on contemporary South Asian realisms. Before Northwestern, Kalyan taught at Gettysburg College, where their work was supported by a Mellon fellowship, and Haverford College.
---
Areas of Teaching and Research
Postcolonial & Global Anglophone literatures, Twentieth and Twenty-first century South Asian writing in English, US Empire, Novel Studies, Political Theory 
Back to top