Justin L. Mann
Assistant Professor of English
Ph.D. George Washington University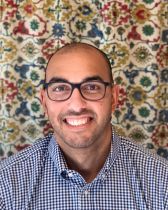 847-491-4718
University Hall 326
Office Hours: Tuesdays 2:30-5 & Thursdays 11-1
Biography
Justin L. Mann (Ph.D American Studies, George Washington University) has research and teaching interests in African American literature, speculative fiction, black feminist theory and queer of color critique, and security studies.
His current project, "Breaking the World: Blackness and Insecurity after the New World Order," explores the interpenetration of speculative fiction and security policy to understand the underexamined connections between these two seemingly disparate fields of writing.  Bringing works by Octavia Butler, Walter Mosley, Colson Whitehead, and N.K. Jemisin into conversation with security policy and practice, "Breaking the World" argues that that black speculation is an overlooked but essential archive for understanding America's security ambition since the Reagan Administration.
Justin's work has appeared in Feminist Theory, Feminist Studies, and Surveillance & Society. His research has been supported by the Huntington Library in Pasadena, CA.
---
Specializations
Gender Studies, African American Literature, Critical Race & Ethnicity Studies, American: 20th Century