Nick Davis
Alumnae of Northwestern Teaching Professor; Associate Professor of English
Ph.D. Cornell University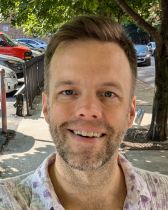 847-491-3433
University Hall 307
Office Hours: Tuesdays 11-12:30 and MWF by appointment
Biography
Nick Davis (he/him/his) researches and teaches in the areas of film, queer theory, feminist and gender studies, and 20th/21st-century American literature. His book The Desiring-Image: Gilles Deleuze and Contemporary Queer Cinema (Oxford University Press, 2013) theorizes new models of queer cinema in the historical wake of HIV/AIDS, based more on formal and conceptual principles than straightforward identity claims. The book's ideas and its readings of films like Dead Ringers, Naked Lunch, The Watermelon Woman, Shortbus, Brother to Brother, Beau travail, and Velvet Goldmine draw heavily on Deleuzian philosophies of cinema, desire, collective becomings, and their unstable politics, without presuming too much prior familiarity.
Elsewhere, Nick has published essays on Julie Dash's Illusions, Alfonso Cuarón's Y tu mamá también, David Cronenberg's A  History of Violence, William Friedkin's The Boys in the Band, Ang Lee's Brokeback Mountain, Pixar's The Incredibles, James Baldwin's Blues for Mister Charlie, and the politically radicalized actresses Julie Christie and Vanessa Redgrave. Forthcoming work includes essays on Todd Haynes's I'm Not There and on opaque close-ups and unknowable characters in recent queer films like Spa Night, Moonlight, They, and Tomcat. His developing book Millennium Approached: Reframing the Movies of 1999 examines a series of aesthetic trends, reception patterns, and cultural preoccupations in U.S. and world cinema on the eve of Y2K. Since 1998, he has been the author of the film reviews at www.Nick-Davis.com, and for four years he was a Contributing Editor at Film Comment Magazine.
Nick, who is permanently co-appointed in the Gender & Sexuality Studies Program and holds a courtesy appointment in Radio/Television/Film, regularly teaches a seminar called "Queer Theory and Queer Cinema" at the graduate level. His wide range of undergraduate courses including "Introduction to Film and Its Literatures," "Introducing Queer Cinema," "Introducing Trans Cinema," "Writing About Film," "Henry James and Film," "The Film Review as Genre," "Sexual Subjects," "Introduction to 20th Century American Literature," and a range of seminars exploring diverse cinematic productions drawn from one calendar year. From 2017-2020, he held the Alumnae of Northwestern Teaching Professorship, one of the University's highest awards for distinguished teaching and curricular innovation.
---
Specializations
American: 20th Century, Gender Studies, Theatre & Drama, Critical Race & Ethnicity Studies, Film & Film Theory
Books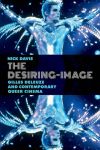 ---
Back to top