Katharine Breen
Associate Professor of English
Ph.D. University of California - Berkeley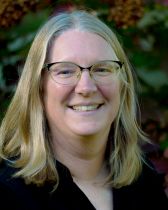 847-491-7486
University Hall 419
Office Hours: Monday 1-3:00pm
Biography
Katharine Breen (she/her/hers, Ph.D. University of California - Berkeley) teaches and writes in the areas of medieval English literature and medieval book history. Her interest in the Middle Ages begins in the fifth century with Sulpicius Severus's Life of Saint Martin, which sanctifies the shift from a Roman to a medieval cultural landscape, and extends from poetry and drama to monastic chronicles and penitential tracts. She focuses her attention most intensely, however, on English literature from the thirteenth through fifteenth centuries – especially William Langland's Piers Plowman and its tradition of poetic social criticism – and on the ways in which books seek to shape their readers through the interplay of material construction and textual content.
Her first book, Imagining an English Reading Public, 1150-1400, was published by Cambridge University Press in 2010. It argues that the translation of reading habits, rather than the translation of textual content, lies at the heart of controversies about late medieval vernacular writing. While modern colloquial usage of habit implies mindless repetition, and Bourdieu's sociological studies posit habitus as an unconscious state to which one must "awaken," the Middle Ages defined habitus as a tool for achieving rationally considered goals that would otherwise be out of reach. Such habitus was paradigmatically transmitted in the grammar classroom, where the interplay of governance and subordination in each speech-act initiated the schoolboy into a normatively ordered community. Increasingly, however, thirteenth- and fourteenth-century reformers sought to formulate vernacular languages capable of extending some of these benefits to non- Latinate readers. Unable to assume a pre-existing clerical habitus in their readers, and anxious lest their books be misunderstood, these writers used every tool at their disposal, from maps to mise-en-page to self-consciously literary language, to approximate and inculcate a public and vernacular equivalent. This book shows how vernacular literature's interest in ethically shaping its readers emerged out of an effort to govern the response of a diverse, extra-institutional public.
Breen's second book, Machines of the Mind: Personification in Medieval Literature, proposes that medieval personifications should be understood neither as failed novelistic characters nor as instruments of heavy-handed didacticism. She argues that personifications are instead powerful tools for thought that help us to remember and manipulate complex ideas, testing them against existing moral and political paradigms. Specifically, different types of medieval personification should be seen as corresponding to positions in the rich and nuanced medieval debate over universals. Breen identifies three different types of personification—Platonic, Aristotelian, and Prudentian—that gave medieval writers a surprisingly varied spectrum with which to paint their characters. Through a series of new readings of major authors and works, from Plato to Piers Plowman, Breen illuminates how medieval personifications embody the full range of positions between philosophical realism and nominalism, varying according to the convictions of individual authors and the purposes of individual works. Recalling Gregory the Great's phrase machinae mentis (machines of the mind), the book demonstrates that medieval writers applied personification with utility and subtlety, employing methods of personification as tools that serve different functions. It will be published by the University of Chicago Press in spring 2021.
In addition, Breen co-edits the scholarly journal Yearbook of Langland Studies with Alastair Bennett (Royal Holloway, University of London) and Eric Weiskott (Boston College). In the past few years, special clusters of essays have addressed Lollardy (2017), Chaucer and Langland (2018), personification (2019), and Langland and Disability (forthcoming 2021).
---
Research and Teaching Interests
Middle English literature, Latin and vernacular medieval literatures, late-antique literature, classical reception, medievalism, history of the English language. Areas of special attention include: allegory and poetics, philosophy and pedagogy, translation, history of the book.
Specializations
Language Technologies, Classical/Biblical, Medieval
Books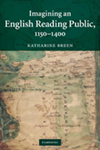 ---
Selected Essays
"Langland's Literary Syntax, Or Anima as an Alternative to Latin Grammar" in Answerable Style: The Idea of the Literary in Medieval England, edited by Frank Grady and Andrew Galloway (Columbus: Ohio State University Press, 2013), 95-120.
"The Need for Allegory: Wynnere and Wastoure as an Ars Poetica," Yearbook of Langland Studies 26 (2012): 187-229.
"Discipline and Doctrine: Inculcating Moral Habits in Le livre de éthiques d'Aristote," New Medieval Literatures 12 (2010): 209-250.
"A Different Kind of Book for Richard's Sake: MS Bodley 581 as Ethical Handbook," The Chaucer Review 45:2 (2010): 119-68.
Back to top