Chris Abani
Board of Trustees Professor of English
Ph.D. University of Southern California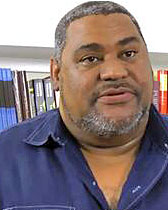 Biography
Chris Abani teaches Creative Writing (Fiction and Poetry) and Literature. He is a novelist, poet, essayist, screenwriter and playwright. His fields of interest include African Poetics, World Literature, 20th Century British and American Literature, African Presences in Medieval and Renaissance Cultural Spaces, The Architecture of Cities and their Potential Symbiotic Relationship with their Populations, West African Music, Postcolonial and Transnational Theory, Robotics and Consciousness, Yoruba and Igbo Philosophy and Religion.
His prose includes The Secret History of Las Vegas (Penguin 2014), Song For Night (Akashic, 2007), The Virgin of Flames; (Penguin, 2007), Becoming Abigail (Akashic, 2006), GraceLand (FSG, 2004), and Masters of the Board (Delta, 1985).
His poetry collections are Smoking the Bible (Copper Canyon Press, 2022), Sanctificum (Copper Canyon Press, 2010), There Are No Names for Red (Red Hen Press, 2010), Feed Me The Sun - Collected Long Poems (Peepal Tree Press, 2010) Hands Washing Water (Copper Canyon, 2006), Dog Woman (Red Hen, 2004), Daphne's Lot (Red Hen, 2003) and Kalakuta Republic (Saqi, 2001).
He has also written numerous essays, articles, book reviews and critical papers on art, poetry, cities and literature for local and international journals, magazines and newspapers.
His work has been translated into French, Italian, Spanish, German, Swedish, Romanian, Hebrew, Macedonian, Ukrainian, Portuguese, Dutch, Bosnian and Serbian.
He holds a B.A. in English from Imo State University, Nigeria, an M.A. in Gender and Culture from Birkbeck College, University of London, an M.A. in English and a Ph.D. in Literature and Creative Writing from the University of Southern California.
He is the recipient of an Edgar Prize from the Mystery Writers of America, PEN USA Freedom-to-Write Award, the Prince Claus Award, a Lannan Literary Fellowship, a California Book Award, a Hurston/Wright Legacy Award, a PEN Beyond the Margins Award, the PEN Hemingway Book Prize and a Guggenheim Award.
Chris Abani has taught in numerous countries around the world including countries in sub Saharan Africa (Gambia, Nigeria and South Africa), the Middle East (Qatar), Central Asia (Thailand) and Europe (UK).
He is always at work on multiple projects.
Specializations
Creative Writing
Books
Projects
Black Goat Poetry Series
Black Goat is an independent poetry series imprint created and curated by Chris Abani. It is affiliated with Akashic Books and is currently an imprint of that press. The vision behind Black Goat is simple: a commitment to publishing collections of poetry that might not otherwise find a home. Selected work will represent the finest examples of well-crafted and sometimes challenging poetry, and will also focus on experimental, aesthetically or thematically challenging work. The series also aims to create a proportional representation of African and other non-American as well as female poets on its list. Black Goat is currently on hiatus.
Black Goat Books
Auto Mechanic's Daughter by Karen Harryman
Eel on Reef by Uche Nduka
The Ravenous Audience by Kate Durbin
Gomer's Song by Kwame Dawes
Controlled Decay by Gabriela Jauregui
The Lesser Tragedy of Death by Cristina Garcia
Conduit by Khadijah George
Globetrotter and Hitler's Children by Amatoritsero Ede
To be hung from the ceiling by strings of varying length by Rick Reid
Has No Kinsman by Kimberly Burwick
Re: f (gesture) by Percival Everett
Abstraktion Und Einfühlung by Percival Everett
African Poetry Book Fund
Founding Editor with Kwame Dawes, Matthew Shenoda, Gabeba Baderoon, John Keene and Bernadine Evaristo
The African Poetry Book Fund promotes and advances the development and publication of the poetic arts through its book series, contests, workshops, and seminars and through its collaborations with publishers, festivals, booking agents, colleges, universities, conferences and all other entities that share an interest in the poetic arts of Africa. The Fund is committed to seeking the resources to support this mission and to ensuring that all its efforts are carried out with excellence.
The Fund will, through the Series and other projects, promote the writing and publication of African poetry through an international complex of additional collaborations and partnerships. The Fund and its partners will offer support for seminars, workshops and other publishing opportunities for African poets.
African Poetry Chapbook Boxset Anthology
with Kwame Dawes
The African Poetry Chapbook Anthology Boxset Series is one of the features of a new multi-pronged and dynamic initiative to promote the publication of African poetry with the aim of expanding the scope and reach of the poetry first in North America and the around the world. The African Poetry Book Fund is the umbrella organization over a series of projects with both developmental and enhancement objectives when it comes to African Poetry.
The Chapbook Anthology Boxset
The Chapbook Anthology Boxset is a box set of seven chapbooks featuring the poetry of seven dynamic African poets who have not yet published a full-length volume of poetry. Each chapbook includes a preface by a leading writer and the box set is introduced by co-editors, Kwame Dawes and Chris Abani.
African Fiction Initiative
also with Kwame Dawes
The initiative will partner with a press to publish a box set anthology once every two years of four novellas from new and established African writers to foreground this literature in the mainstream. A guest editor in the field will be invited to co-edit every time so as to maintain balance and a fresh perspective. The initiative will partner with other African Literature Initiatives (Brunel, UNL and Princeton) to work on the development of writing and publishing in Africa.
Awards
2015
Inducted as a member of the American Academy of Arts and Sciences
Recipient, Edgar Prize from the Mystery Writers of America
2014
United States Artists Ford Fellow in Literature
2009
Guggenheim Fellow in Fiction
2008
Winner, PEN Beyond the Margins Award (Song for Night)
Finalist, Dayton Literary Peace Prize (Song for Night)
Nominated for Lambda Award (The Virgin of Flames)
Recipient, Distinguished Humanist Award (UC, Riverside)
2007
Pushcart Nomination for Sanctificum (Poetry)
New York Times Editor's Choice (Song for Night)
Finalist, PEN Beyond the Margins Award (Becoming Abigail)
A Barnes and Noble Discovery Selection (The Virgin of Flames)
A New York Times Editor's Choice (The Virgin of Flames)
A New York Libraries Books For Teens Selection (Becoming Abigail)
2006
A New York Times Editor's Choice (Becoming Abigail)
A Chicago Reader Critic's Choice (Becoming Abigail)
A selection of the Essence Magazine Book Club (Becoming Abigail)
A selection of the Black Expressions Book Club (Becoming Abigail)
Pushcart Nomination (poetry) for "A Way To Turn This To Light"
Finalist for IMPAC Dublin Prize (GraceLand)
2005
Winner, PEN Hemingway Book Prize. (GraceLand)
Winner Hurston/Wright Legacy Award for Debut Fiction (GraceLand)
Silver Medal, California Book Award for Fiction (GraceLand)
Finalist, Los Angeles Times Book Prize for Fiction (GraceLand)
Finalist, Commonwealth Writers Prize, Best Books (Africa Region) (GraceLand)
Pushcart Nomination for "Blooding" Story Quarterly
2004
Barnes and Noble Discover New Writers (GraceLand)
New York Times Editor's Choice (GraceLand)
Nominated for The Kingsley Tufts Prize for Poetry (Dog Woman)
Nominated for The Griffin Prize in Poetry (Dog Woman)
2003
Lannan Foundation Literary Fellowship, USA
Hellman/Hammet Grant from Human Rights Watch, USA
2002
Imbonge Yesizwe Poetry International Award, South Africa
2001
PEN USA West Freedom - to - Write Award, USA
Prince Claus Award for Literature & Culture, The Netherlands
Middleton Fellowship, University of Southern California, USA
1983
Delta Fiction Award, Nigeria (Masters of the Board) - Delta Fiction