15th Annual Writers' Festival
FESTIVAL AUTHORS
Shara MCallum
Shara McCallum is the author of six books published in the US and UK, most recently No Ruined Stone, winner of the 2022 Hurston/Wright Legacy Award for Poetry and named a finalist for the 2022 UNT Rilke Prize. McCallum's poems and essays have appeared in journals, anthologies, and textbooks throughout the US, Caribbean, Latin America, Europe, and Asia. La historia es un cuarto/History is a Room, an anthology of poems drawn from her six books and translated into Spanish by Adalber Salas Hernández, was published in 2021 by Mantis Editores in Mexico. In addition to Spanish, McCallum's poems have been translated into Italian, French, Romanian, Turkish, and Dutch and set to music by composers Marta Gentilucci and Gity Razaz. Awards for her work include the Silver Musgrave Medal, the OCM Bocas Caribbean Poetry Prize, a Witter Bynner Fellowship from the Library of Congress, an NEA Fellowship in Poetry, the Oran Robert Perry Burke Award for Nonfiction, and the Agnes Lynch Starrett Prize, among others. McCallum delivers readings, lectures, and workshops at universities, literary festivals, and various community settings in the US and internationally. She has taught creative writing and literature at several universities and is currently an Edwin Erle Sparks Professor of English at Penn State University and a faculty member in the Pacific Low-Residency MFA Program. From 2021-22, McCallum served as the Penn State Laureate.

Aisha Sabatini Sloan
Aisha Sabatini Sloan is an American writer who was born and raised in Los Angeles. Her writing about race and current events is often coupled with analysis of art, film, and pop culture. She studied English literature at Carleton College and went on to earn an MA in Cultural Studies and Studio Art from the Gallatin School of Individualized Study at NYU and an MFA in Creative Nonfiction from the University of Arizona. Her essay collection, The Fluency of Light: Coming of Age in a Theater of Black and White was published by the University of Iowa Press in 2013. Her essay collection, Dreaming of Ramadi in Detroit, was published in 2017 and chosen by Maggie Nelson as the winner of the 1913 Open Prose Contest. Her 2021 essay, Borealis, received the 2022 Lambda Literary Award for Bisexual Nonfiction.
Elizabeth McKenzie
Elizabeth McKenzie is the author of The Dog of the North, released in March 2023 from Penguin Press. Her novel The Portable Veblen was longlisted for the 2016 National Book Award for fiction, winner of the California Book Award, and finalist for the Baileys Prize. Her work has appeared in The New Yorker, The Atlantic Monthly, Best American Nonrequired Reading, and the Pushcart Prize Anthology, and recorded for NPR's Selected Shorts. Her collection, Stop That Girl, was short-listed for The Story Prize, and her novel MacGregor Tells the World was a Chicago Tribune, San Francisco Chronicle and Library Journal Best Book of the year.
---
Public Events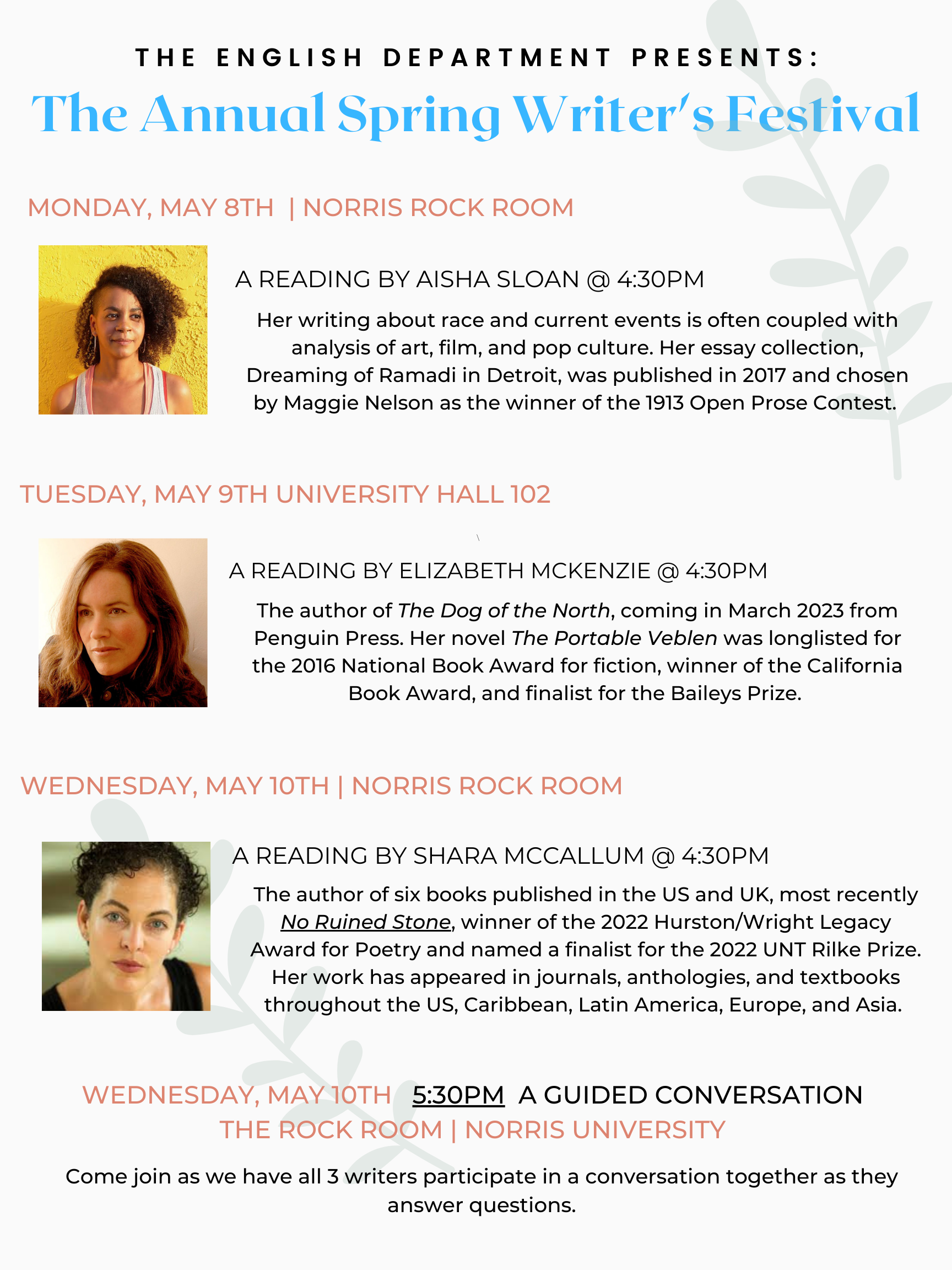 Back to top